Earlier in the school year I shared with you that AFT and Randi Weingarten had won a lawsuit they filed about the Public Loan Forgiveness Program and how under Betsy Devos there was a major failure to manage the program. Thousands of PSLF applicants were denied relief when they did in fact qualify. I also shared that in most cases if you have worked in public service and paid your monthly student loan bills, the balance of your loans should have been forgiven if you applied. I want to share that one of our own members, Ivelysse Powers (FHS) , used the AFT resource (SUMMER) and patiently followed the process and last month had the remainder of her student loan debt ELIMINATED! Below is a portion of the message she received.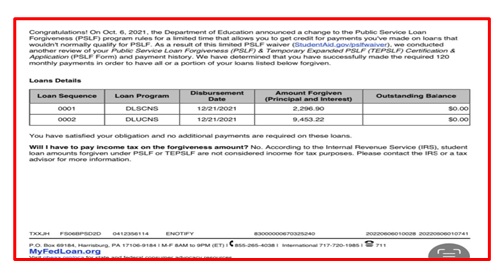 The program works and I am reminding you again because all over LI, NY and across the country union members (teachers, nurses, firefighters) are benefiting from this union won benefit. I know others have started the process and if you planned to but didn't get around to it, before you get busy with summer plans please be aware that you must start taking advantage of this waiver before it expires on October 31st 2022. AFT members (YOU) can sign up for a free account with Summer to get started here:
https://www.meetsummer.org/pslf Our local AFT number is 1889.